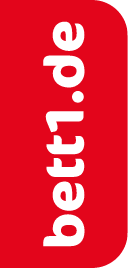 Cooperation with International Aid Organisation GAiN
"If you understand sustainability as your corporate responsibility, you have to rethink – from production to returns management," explains Adam Szpyt, founder and CEO of bett1.de. We have been thinking sustainably at bett1.de since the company was founded and are integrating more and more production and delivery steps into our concept.
We donate almost all of our returned mattresses to people in need. Mattresses that cannot be donated are recycled and returned to the resource cycle. It is important to us: no mattress ends up in destruction.
Mattresses Give Refugees a Home
In the course of the war in Ukraine, we entered into a donation cooperation with the globally active aid network GAiN from Gießen. The core of the cooperation: We donate part of the stock and returned mattresses for refugees. "We have already provided more than 10,000 mattresses to people in need, giving them their own comfortable bed again," explains Szpyt.
Only products that pass our quality management check go to GAiN. Currently, we deliver mattresses weekly to the distribution stations for GAiN's aid projects. Deliveries are made to Moldova, Romania, Latvia, Lithuania, Poland and Ukraine itself. Klaus Dewald, Managing Director of GAiN, is also pleased about the cooperation. "bett1.de is our only partner that donates mattresses on such a large scale. The refugees are very grateful for this, because mattresses and a bed of their own are simply a place to regenerate, retreat and take a deep breath."
We Rely On: Made in Germany
Already during production, we rely on manufacturing in Germany and nearby European countries. In this way, we keep the distances short, take into account high standards and use only tested materials. "The fact that the core is foamed in Germany and the mattresses are also finished here is crucial for us. This saves the environment unnecessarily long transport routes and secures regional jobs," Szpyt emphasises.
To ensure that transport to our customers is as efficient and resource-saving as possible, we have been compressing and rolling the mattresses for years. This means that we can deliver the mattresses – regardless of their size – as a package to the door of your home, eliminating the need for time-consuming shipping by a forwarding company.
For shipping, we use brown cardboard boxes made from recycled material. In addition, we work with suppliers who provide cardboard boxes from FSC-certified, sustainable forestry, among others.
A New Approach to Sustainability
Last but not least, we attach great importance to the fact that BODYGUARD® Mattresses last for eight to ten years: the sophisticated QXSchaum® Mattress Foam keeps its shape and the HyBreeze® Cover is always fresh because it can be washed at up to 60°C on the delicates cycle.
It is not only the material that determines whether a product is sustainable, but above all its quality and lifespan. A good product that people can use with satisfaction for many years always beats a low-quality product that is designed solely for mass consumption and a throwaway mentality.
The speed at which plants grow again can hardly keep up with our mass consumption. Supposedly green natural products are therefore all too often accompanied by mass cultivation and monocultures – ecologically not the last word in wisdom. For a serious discussion of the topic of sustainability and climate protection, the reduction to the question of materials therefore falls short. For example, it is elementary for recycling whether the materials can be separated by type or whether they are composite materials that can only be broken down into their original components with a high energy input or not at all.
We follow the latest advances in material innovation, recycling technologies and optimisations in production and logistics and constantly incorporate these findings into our processes. For us, sustainability is a path that we must constantly follow in order to fulfil our responsibility to society as a whole.
"In the end, it's quite simple: only products that can be used for a long time are really sustainable. If perfectly good returned mattresses are even given a second life by people in need, this creates a meaningful cycle," Szpyt knows.